What have I been doing since graduation from ABHS?

The summer after graduation I when to Michigan State University. My family dropped me off at the dormitory and promptly moved to Alabama! (My father was in the Army at the time and was transferred there.) It was quite a shock going from our small high school and living at home to a campus with over 40,000 students and no family within a few thousand miles. My designated major at the time was philosophy but four years later in 75 I graduated with a degree in something a little more marketable if not a bit duller – Accounting. I stayed in Lansing Michigan for five more years working first for a local CPA firm and then other local businesses before moving south to Florida to be with the rest of my family who had by then settled in St. Petersburg. I continued work in the accounting field and joined a small theater group in the area. It was there that I met my wife, Elaine. We were married in 1982 and have two sons, Nick and Mark. I went to work for a local bank in 1983 which failed a few years later and was acquired by Chase Manhattan Bank. I stayed with this Chase subsidiary bank for 11 years and was serving as its Controller when it was sold. I'm now working at Treehouse as the Controller.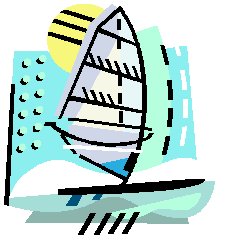 Shortly before I headed south from Michigan to Florida (about 1980) I picked up a magazine and read an article about a new sport called windsurfing. Within a few days of arriving in the state I purchased a board and have been sailing ever since.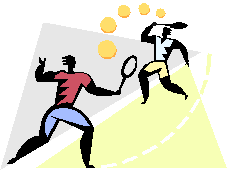 Florida's usually great weather has allowed me to continue playing tennis on occasion with not much improvement over my performance on ABHS's tennis team. It couldn't have been very good then either because I don't recall much about any of our games or scores… fortunately forgotten.

Other interests include family history research and computers. I started researching my family's history about 1994 and with the help of computers and the Internet have discovered quite a lot of fascinating things about my ancestry. There are the skeletons in the closet of course like several of my ancestors who died in what they called lunatic asylums back then but then there has been the discovery of some famous relatives as well. Early in 1999 I received a letter from Norris McWhirter, founding editor of the Guinness Book of World Records, in which he told me we were related by our common ancestry. We have since then exchanged a lot of information about our family tree.

It was my interest in family history that lead me to establishing a website for my ancestral hometown of Maybole in the county of Ayrshire, Scotland. See

www.maybole.org. The town has a 400 year old castle and lots of interesting history. As site administrator I receive messages daily from people around the globe with some question or comment about the site.

With the success of the Scottish town site I am now working on a site for my own community and neighborhood

www.feathersound.org . These sites are in turn part of the inspiration for this site for our ABHS Class of 71. With the hope of renewing some of the friendships I had in high school and making new ones I have created this site for our class as a way to bring us together again. For more about my family and me visit our website at www.richpettit.com.

One of the good things about growing older must be that somehow our remembrances of the way things were changes slightly. The good memories become better and the bad ones fade away! One of my clearest recollections of high school however remains the feeling of panic a short period before we were to present our senior class play. I was ready to quit but Claudia Schmidt persuaded me that would be worse than a disastrous production. Fortunately everything came together and the play was a success or so I was told by some of those in the audience.
What have I learned since high school
I'm sure some of you will have fun with this one. I am however at a loss for something clever or humorous to write here at the moment. Maybe something will come to me later. For now I can only refer you to the poem below which may explain why I am uncertain that I have learned anything at all!
Favorites - poem, quote, saying, whatever…
One of my favorite poems is one I read in high school English class. It's an old poem as true today as it was a century or more ago. It expresses well the idea that the only constant is change itself.
In Eternum