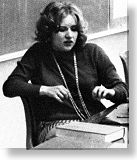 The ABHS71 website took me back to the enriching days I spent at Anchor Bay, and the wonderful people there.
When I left Anchor Bay in 1973, I was married and lived in Bloomfield Hills, Michigan, for another few years. Then I divorced, and lived in Rochester, working with a food broker and then with Norwich-Eaton Pharmaceuticals as a retail manager.
In 1980, I transferred to Louisville, Kentucky, and supervised Kentucky, Tennessee, Virginia and West Virginia merchandisers. Norwich-Eaton was bought out by Procter and Gamble, and I took a job as retail director with a company in Raleigh, North Carolina, managing their merchandising force throughout eight southeastern states.
In 1989, I moved to Philadelphia, to take a job as the national retail manager for two divisions of Ciby-Geigy Pharmaceuticals. At a sales meeting at Saddlebrook, Florida, I was exposed to a chemical pesticide and became disabled from damage to my central nervous system and immune system. A few months later I moved back to Ohio to be near family, who helped me rebuild my life.
In the years that I worked in merchandising management, I was blessed to be able to see most of the United States. My own personal travel also took to Hong Kong, China, Ireland, most of Western Europe, and western Canada.
I now live across the waters from New Baltimore, a few blocks from the southern shore of Lake Erie, in Marblehead, Ohio, with my yellow Labrador, Einstein. Thanks to modern and alternative medicine and the support of friends and family, I am able to teach some yoga and Reiki classes and regularly baby-sit for children of friends. So I have always been a teacher, in many different ways.
My memories of Anchor Bay are of an exciting time, full of passion and energy, and of the wonderful people that were the students and the faculty.
Donna M. Lueke [email protected]