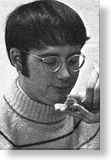 Joe Abell was well liked by many of his students. His untimely death of a heart attack in August of 1996 in the yearbook office at school has saddened many of his former students. I worked with Mr Abell in the production of the senior class play and found him very capable and patient. Below are some of the comments about Joe found in the message boards at www.classmates.com. If you would like to add your tribute to Mr Abell please send me a message. Rich Pettit.
---
My name is James Allison. I graduated in 1983. I joined the Army in September of the same year and now I find myself retiring shortly. My father was in the Army when we moved from Tennessee to Michigan in 1981. We lived in the Cape Hart housing area in New Baltimore. All of us "military brats" went to Anchor Bay. It was an interesting school from my meeting with my counselor to finally meeting Mr. Abell.
My passions at the time laid in art, however, moving from TN to MI in late August caused me to miss registering for the art classes there at Anchor Bay. I was relegated to taking a class on theater. Sheesh! I didn't want that crap! How soon I changed my mind. I also ended up taking Stagecraft and finally ended up spending my Junior and Senior years working with and for Mr. Abell. Mr Abell was VERY persuasive. It's funny when I look back on it.
As I was taking Stagecraft, I realize that "sitting around and doing nothing" was non-existent in this class. We ALWAYS had something to do. "Tote that barge; lift that bale!" Taskmaster was an excellent word for Mr. Abell. The play that was being put on was "Death of a Salesman". It seems Mr. Abell was missing Willy Loman's boss. Mr. Abell walked into his office one day, and asked me if I could memorize "stuff". Of course, I said. Good, he said; you'll be playing Willy Loman's boss in this play. Of course, after I picked my jaw off the floor. Mr. Abell "basically" talked me into the part.
I am sad that I did not keep in touch like I should have. It is an unfortunate world in which we live when people living and working in close proximity of each other can not get along. Such was the case of the "military brats" and the kids from Anchor Bay; it always seemed that everything that was done at Anchor Bay was separate. So, needless to say, I really had no one to keep in touch with. Several months, and probably last year, I came across the Anchor Bay web site. (I am currently stationed in Korea.) I found it kind of odd that the theater was named for Mr. Abell and that there was a new drama teacher. I feared the worst but did not know. Anyway, I stumbled across this webpage while looking at the reunion for the class of 1983. I am sorry that I did not know sooner.
SSG James M. Allison
U.S. Army
Korea
P.S. I am a big "calendar date" person. It's really weird that Mr. Abell died on 7 August 1996. I just happened to be flying on 7 August 96 going to Kuwait for an assignment. I left the States on 6 August and arrived in Kuwait 8 August. That's really weird.
---
My name is Jennifer (La Londe) Bomarito. I graduated in 1986 and I was a member of the Performing Arts Club for the four years I attended Anchor Bay High School. I was very close to Joe Abell. He almost became a second dad to me. We could talk about anything. He never was to busy to listen. When I graduated, He gave me a gold charm of the mask of Comedy and Tragedy, which I still have and treasure and think of Joe, Abe, as I called him, every time I were it. His funeral was the saddest that I every attended. I loved him very much and I miss him.
I had Mr. Abell in the 70's when we did the play "Ten Little Indian's" and can truly say he was one of the most effective teacher's our school had. He will be sadly missed because of his talent, understanding, and ability to teach. I'll never forget where I was when I heard of his death; that's how much of an impact this man had on his student's. God Bless you Joe! Laura Smith.
Joe Abell was a good friend of mine....from 1991 up until the time of his death on August 7, 1996 (it's amazing that I still remember that date exactly). I have lots of memories about Joe....about the way he smiled, the way he laughed, and the way he would make us all cry. His love for theater, drama, and music touched everyone's lives, in ways that probably no one ever dreamed of. His love for the Phantom of the Opera touched my life, and his love for the kids -- for life -- was an inspiration to me, to his students, and to everyone who knew and loved him. I remember the first day I met him. It was the morning after I went to the high school that night to order my class ring, and my friend Amber Nicholson had told me that she had got a part in the school play...and that the drama club was looking for a guy who needed to cite 3 or 4 lines. It was for You Can't Take It With You. I played Jim, the gunman. So the next morning I walked to him, and I looked at him and I go, "Are you Joe Abell?" He says, "Yeah?" And then I said, "I hear you're looking for someone to play the part of a gunman." And I think he said something like, "Yes, I am." And I remember telling him, "I'd be very interested in the part." And the next thing I know, he goes, "You got it!" I was like, "Wow." I couldn't believe it. I just got the part for the school play. Next thing you know, I was in the play, and that pretty much started the relationship between him and me. And as they say, the rest is history.
Todd Andrew Barnett [email protected]
Mr. Abell was a hell of a guy, a strait shooter, He would listen to you but at the same time tell you to get your head out of your "you know what!!" There was a lot of weekends me and some of the guys would go up to the old Sunoco and shoot the B.S. with him and he would talk to you for hours. I'm a graduate from ABHS class of '85 and on news of his death ten years or so later I felt I had to go, he was that influencing. I saw him for my last time in '95 just a little before my 10 year class reunion and asked if he was coming and he said he would try but unfortunately he didn't, it would have been nice. But since it was JOE ABELL he probably was doing something nice for the kids at ABHS. Jessie Martinez
Its been ten years since high school. Teen angst, sports, plays and events...they passed like fog drifting through my mind slowly dissipating, then gone, but one thing remained all these years. Papa Joe. I could tell you how Papa Joe took time with me and helped me through good times and bad (like so many others), or I could tell you how I 've never felt as important to any one, then when he spoke directly to me. Joe had the uncanny ability to reach people. When he looked at you or spoke to you...you felt like the only one in the world. As every teen, you never really think of the larger picture...nor do you think of illnesses or death. The inevitable sense of invulnerability extends not just to yourself but to all those who surround you. It is not until you lose someone, that you begin to realize that we take the daily visage of those we hold dear and their memories for what they are...treasures. One of the greatest tragedies of my life was losing Papa Joe. I never got a chance to go to the funeral. I sent flowers and a card...never knowing if they arrived or were read. I wanted to be there. I wanted to stand up and tell everyone what they already knew. I loved him, and he would be missed. I was sorry that he left us and his family. I wanted to tell Sean, his son, (with whom I went to school with briefly) that I was sorry... JOE....you touched so many....you will be missed. Perry Bailes